Free Home Budget: Envelope Budgeting
©Kathy Burns-Millyard, Published here sometime in January 2011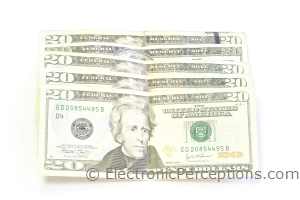 The envelope system is a tried and true form of budgeting that had been used for generations. Some people scoff at the idea when they initially hear about it because it seems so low tech in comparison with modern methods. The envelope system works so well though, because it simply doesn't let you spend money you don't have. It's not a completely free home budget but it only requires a dollar or two to buy the envelopes.
Budget Categories
With the envelope budget system, physical envelopes are your budget categories. Use one envelope for each household bill and personal expense you have. Write one budget category name on each envelope. Rent, groceries, clothing and gasoline are common budget categories you may need envelopes for.
Budget Allocation
Each time you receive a paycheck, cash it. Then divide the cash between the budget category envelopes that need funds. If you receive $500 a week and your rent is $900 per month for example, put $225 into the rent envelope each week so you'll have the funds available to pay that bill when it comes due again.
Budget Spending
When it is time to spend money on a bill or to make a purchase, simply remove cash from the appropriate envelope. If you added $75 to the grocery envelope, then take that money to go shopping. You can't go over budget since you are restricted to spending the cash in hand, and if you spend less the extra can stay in your grocery envelope for use on your next shopping trip.
Budget Flexing
Some bills and expenses can only be estimated in your budget planning. The electric bill may be $95 this month and $115 next month for example, and if you only added $100 each month then sometimes you're short. On the months you're not short you can leave the extra sitting in the envelope to contribute towards short months. Sometimes the extra isn't enough however, and it's these times you'll have to reduce spending in another area. You may take $5 from the grocery envelope and $5 from the clothing envelope for instance, and simply spend less in both of those areas that month.
Cashless Approach
The envelope budgeting system is highly effective because it forces you to use cash. Your paycheck generates a limited amount of cash and forcing yourself to live off of only what you actually bring home keeps you out of debt. It also compels you to save extra so you can cover unexpected emergencies, and makes you fully aware of the true state of your financial affairs. Not everyone is comfortable handling cash however, so a less
effective alternative is to write your budget amounts on slips of paper, then put those into the envelopes in place of cash. Each time you spend money however, you'll need to discipline yourself to subtract the spending from the available funds slip in the appropriate envelope.
NOTE: Nothing in this article is intended to be considered professional financial or legal advice.
Feel free to
trackback
or ping from your own site.