The Pros & Cons of Selling Microstock Photography
©Kathy Burns-Millyard, Published here sometime in October 2009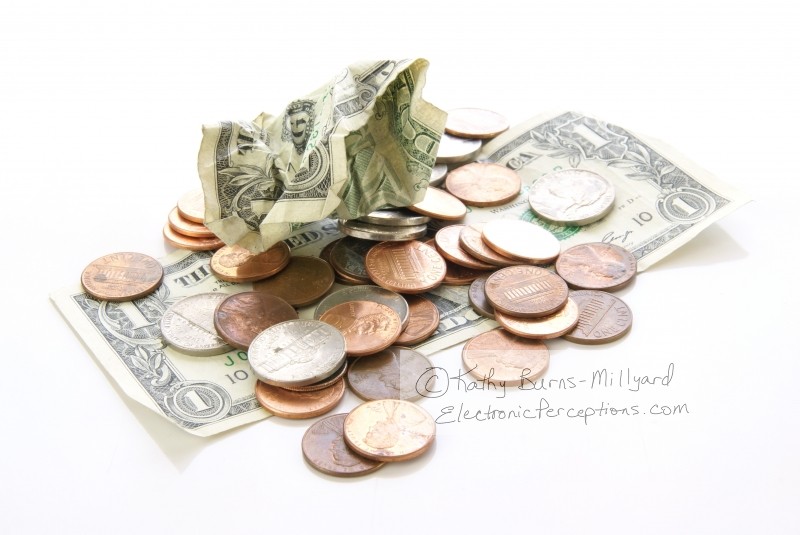 I came across a few articles this morning, in which the authors were advising photographers against selling their photos at online microstock agencies. And the most common reason they recommended against this was the claim that you couldn't make much money selling your photos that way.
The Microstock Argument
This is an old and tired argument you'll find all over the web. It's about more than just money, but money does seem to be the biggest issue. One camp of photographers feels there's no way you can make money selling your photos for just $0.25, $0.50, $1.00, or even $10.00 each. The other side of the argument feels that the volume of sales you get with microstock very much equals out the bottom line money earnings.
In my mind, the difference between the two is a simple business decision. You sell high end products once in awhile or you sell less expensive ones all the time. For me, it makes absolutely no difference whether you license a photo once for $100, or 100 times for $1. The bottom line still says you've earned $100 from that photo. But what about those pictures you sell just a few times at a microstock agency? Say for instance, you have a shot that sells just once in a year for a piddly fifty cents? Then that particular shot may never have sold at all if it weren't at a microstock site.
Sure each stock agency has it's own set of buyers, and this makes their best sellers differ from each other – sometimes quite widely. So something that doesn't sell on a microstock site might very well sell great at a standard stock agency and vice versa… but quite possibly the only way to know is to try both.
Standard Stock Photography Limitations
Now, I personally chose to go with microstock agencies for a few simple reasons. First and foremost, I'm a digital photographer. I've been working online – aka in digital environments – since 1995. So digital and online environments are quite natural to me.
The first camera I ever remember owning was digital too, a Casio. I'm fully aware that I've taken plenty of non-digital pictures in my lifetime of course, because I have loads of old print pictures to prove it. The problem though, is that I don't remember any of those film cameras. I strongly suspect I never actually owned one to be honest, and simply used those of friends and family members instead.
Working online for so many years, plus using digital cameras for almost as long, naturally made me look for stock agencies and outlets that would accept photos in digital format. And this is where I ran into some problems.
When I first started exploring the idea of selling stock photography, I naturally looked at print publications such as consumer magazines. I say "naturally" because I've been a freelance writer for most of the last 11 years, and I've written off and on for various consumer and trade publications during that time. When I started looking into submitting my photos to them however, I found that many of these magazines did not accept digital formats. And the few that were starting to at that time still required the pictures to be sent via standard mail, with printed copies included.
As part of my market research, I also came across some of the well known stock photo agencies, so I dug deeply into their submission requirements and information as well. Needless to say I was quite disappointed with what I found. Like print publications, not many stock agencies accepted digital photos. And those that did had a complicated and time consuming process for submitting.
Digital wasn't my only problem though. Standard stock agencies also required photographers to submit a minimum of 100 photos as part of the application process. Some places won't even look at your work if you have less than 1000 stock shots too. So even though I'd been taking photos for many years, I did not have nearly enough stock quality shots to put in an application at most of the major stock houses.
Thankfully, this research excursion eventually led me to microstock agencies online. This was probably 2004 or 2005, and microstock was still quite new. After a bit of research into what was available then however, I declined to apply and submit my photos. Why? Because the payments made me uneasy. I couldn't comprehend how anyone would be able to make much money if they were only being paid $0.20 per download – which was what Shutter Stock offered at that time. I decided to just bookmark a few sites and think about it awhile longer.
What Made It Click For Me
In the meantime, new trends were cropping up in other online business areas that I pay attention to. Many of these involved people trying to build websites as large as they could, as fast as they could crank them out, on the premise of making $1 per page each month. The sales pitches being tossed around basically said: If you have 1000 pages online, and each makes $1 per month, you'll be making $1000 every month.
I won't delve into the massive amounts of junk that was created based on those sales pitches, but they did do one good thing for me: They made microstock "click" in my mind. I finally understood how earning just $0.20 per download could feasibly make a decent income over time. In a word: Volume.
So I went back to researching. And this time around I discovered something that gave me a bit of hope and optimism. Apparently the standard rule of thumb for earnings at a regular stock agency is about $1 per photo on file per year. At microstock sites though, that average was $1 per photo on file per month. Huge difference. If you had 1000 photos for sale at a standard stock house, then on average you could expect to earn about $1000 per year. 1000 photos at microstock agencies though, were more likely to bring in averages of $1000 per month instead.
I feel the need to insert a common sense disclaimer here: The earnings mentioned are averages and potential. A hard number to run estimates and calculations with. They're not set in stone and there are a wide variety of reasons for one person's photos to perform much better or much worse than another person's does.
With that said of course, reading about the earnings potential convinced me to at least give microstock a try. And since most online microstock sites allow you to get started with as few as one to ten photos, that sealed the deal.
Tackling A Major Learning Curve
Little did I know that this was the start of a very long, very high learning curve for me. It was also ultimately the best choice I could have made.
You see, I didn't realize that I was clueless about stock photography back then. In fact, I was still a bit too naive and under-trained with photography in general. Yes I took great photos over the years that many people loved, but there's a world of difference between creating those types of photos and creating sellable, commercial quality stock photos. I also didn't know what noise, artifacts, or purple fringing was, and I had no clue there was a difference between "artsy" photos and stock photos. And I won't even begin to talk about monitor calibration…
Can you imagine how much time, effort, and money I would have wasted if I'd tried submitting to standard stock agencies first?
I was so bad my first year in fact, that I didn't even average the low $1 per photo on file per year.
Thankfully I love to learn and I learn fast, and that is extremely obvious when you compare some of my earlier stock photos with those I'm producing today. If it weren't for the microstock sites however, I may never have made such dramatic improvements so quickly… if at all.
And as for the "no money in it" arguments mentioned at the beginning of this article, I now know for a fact that's untrue. There are photographers selling their photos at microstock sites, earning $9000, $10,000, and more every single month. This is not heresay or second hand information either, I've actually spoken with a few of them off and on in the last year or two. They are my inspiration and motivation.
Could those same photographers make much more money if they sold at standard stock agencies instead of microstock? Possibly. Some maintain both types of portfolios with different photos in each, while others stay with microstock only. Why? Possibly because it's as close to instant gratification as a photographer can get.
For Me: Flexibility and Freedom
Standard stock agencies tend to pay quarterly, and I personally would find it difficult to stay motivated if I had to wait 3 months just to see what has sold, and how much money I've made. It would also be difficult to spot and respond to trends quickly, in the way I'm able to do with microstock.
Selling photos in one way doesn't discount selling them in another though. As I mentioned, there are photographers who sell at both standard stock houses as well as microstock. There are also those who do private commercial work, portraits, architecture, and so on. Essentially, microstock is just one part of their overall business.
I personally enjoy being published, and plan to expand back into print publications for my gardening, travel, and scenic work. I don't usually bother trying to submit gardening or landscape photos to microstock agencies, because those topics are what everyone tries to submit – particularly in the beginning – so most microstock agencies reject them.
I have the advantage of being able to write well however, plus take excellent quality high resolution photos too, and this gives me an advantage with magazines and offline publications.
And even though I now have a respectable sized portfolio to submit to standard stock agencies, the pros of selling via microstock have far outweighed the cons for me by now, so that will stay a key component of my business… ever expanding and growing as the bread and butter, "pay the bills" income that supports a lifestyle of my choice.
©2008;, Originally written in March 2008
You'll Also Like
Feel free to
trackback
or ping from your own site.