Spend Less Than You Earn
©Kathy Burns-Millyard, Published here sometime in August 2011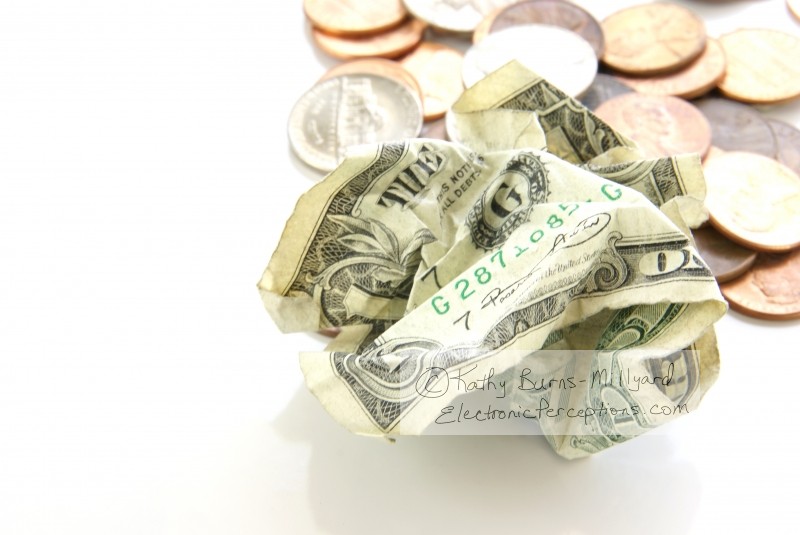 Or Earn More Than You Spend!
Pick up any book about self improvement, sucess or wealth building and you'll find this advice in every one of them. The Richest Man in Babylon, The Success Principles, Multiple Streams of Income, The Total Money Makeover… All of these are just several examples of books I've been reading recently that give the same advice: Earn More Money Than You Spend. Regularly.
If you have a regular job with a paycheck, this should be easier than most might think. You know exactly what your spendable income is each payday. Don't try to factor in bonuses, overtime or anything else–just write down what your basic take home pay is for each paycheck. This is your income.
Next write down all your bills. The regular bills are easy and many are fixed from one month to the next: Mortgage payment, car payment, insurance and so on.
After fixed expenses comes variable ones. These can include groceries, gas in the car and your electric bill. Write down the averages for each, then add 10-20% as a buffer.
If you'd rather know the exact numbers for variable expenses, start tracking them now. Track every dime you spend every day for at least one month.
Subtract your fixed expenses from your income, then subtract the variable expenses from what's left. If the total amount of your expenses are more than the take home income, you need to make cuts. Now.
Or you need to increase your income.
It is not possible to become wealthy when you spend more money than you make.
This process is both more difficult and more easy for anyone who runs their own business. Self employed people or business owners have variable income–that's the difficult part–but they also have the ability to increase their income at will… That's the easy (not to mention great!) part.
Sometimes you can reduce your fixed expenses–such as shopping around for lower insurance rates for example–but generally those fixed expenses are fixed, so you have to trim from the variable expenses side of things.
Depending upon your lifestyle, reducing variable expenses may be as simple as using David Bach's "Latte Factor" (The Automatic Millionaire) which essentially says to cut down on pleasure items. Instead of buying a latte every day for example, buy one each week. If you regularly spend $3 a day on this type of luxury, backing down to $3 a week gives you an extra $48 a month.
So sit down with a list of every variable expense you have, and figure out where you can cut and trim. Can you cut out the daily latte? Pack your lunch a few times each week instead of buying at restaurants? Carpool to save on gas expenses? Cook homemade meals instead of buying expensive microwave food?
If you want to become wealthy, this step is critical to your success. Find or create ways to have a surplus in your life.
At the very least make the finances balance, WITH something going towards savings. If you go to all the trouble to make the income and outgo balance but you're not putting anything towards savings, you're just treading water. And yes you can do that for a short time when things are really bad, but consider this: If you're paying a monthly cable tv bill but not putting anything in savings, you haven't trimmed everything you can yet.
In my own life I've made many drastic changes in the last year. I cut out the electricity bill entirely by switching to solar power and reducing my consumption. I work from home and batch errands together so we're only driving once every one to two weeks. I make my own coffee, cook homemade meals and limit what's allowed to be spent on junk food at the store.
I've done things much more drastically than most are willing to consider but I have big plans and for me, these are the beginning baby steps to making it all happen.
So make a choice: Reduce your spending or increase your earning and get the point where your income is equal to or more than your expenditures.
April 2010
You'll Also Like
Feel free to
trackback
or ping from your own site.