Stock Photo: Crumpled Paper Background
License This digital photo at Perception Stock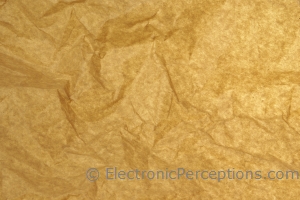 This is a simple crumpled paper background that's excellent for use as a general texture or design element. The paper is slightly crumpled and natural in color. It looks like light shining through a brown paper bag and has golden undertones to it.
In the high resolution version of this shot you can see the paper fibers that give it an excellent texture.
Other Images You May Like
Stock Photos Elsewhere...
Have an account elsewhere? Find my stock photos at:
More Stock Photos of... Backgrounds & Textures abstract, background, basics, brown, crumpled, fiber, natural, Nature, paper, tan, texture, wrinkled, yellow