About…
©Kathy Burns-Millyard, Published here sometime in August 2009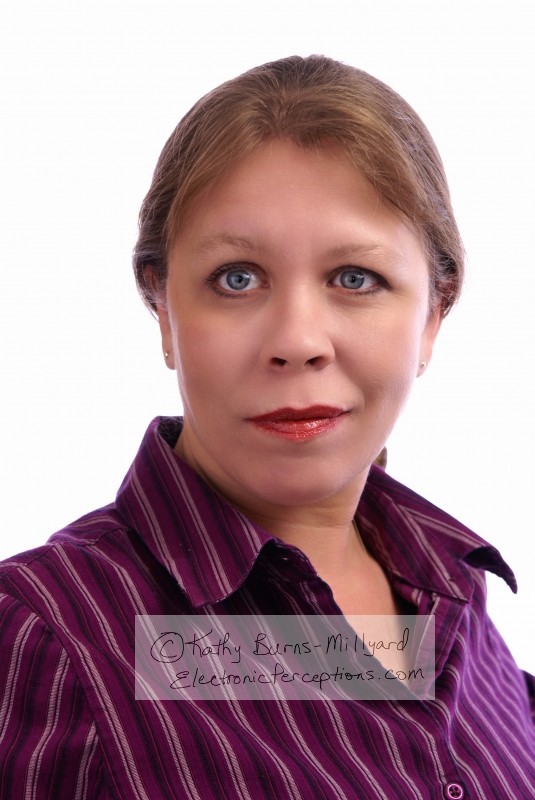 Hi there and welcome to Electronic Perceptions. I'm Kathy Burns-Millyard: The all-around hat wearer around here
Since 1997, Electronic Perceptions has specialized in providing Online Content & Marketing services. These services have included website design, search engine optimization, layout and navigation, usability, e-commerce planning and consulting, general business and marketing plans, technical writing services, affiliate program management, direct marketing, and more. We have gone through a variety of changes over the years, and are now focusing on providing high quality commercial stock photos for businesses and individuals to use in their marketing materials.
About Electronic Perceptions
Electronic Perceptions, formerly SasEz!™ Publications, was started as a Website Development company in January of 1997. Skilled in managing public relations, and creating successful sales and marketing campaigns for our clients, we evolved into providing those services exclusively until early 2004. Due to this evolution, the company was rebranded in early 2001 and Electronic Perceptions was born.
The company is solely owned and operated by Kathy Burns-Millyard from her home office in Arizona, USA. As of June 2004, Kathy no longer takes freelance marketing, advertising, or consulting assignments, however she welcomes request for magazine articles, copywriting, and photography assignments.
About Kathy
I've been a professional published business, marketing, and magazine writer since about 1996. I've provided a wide variety of services over the years including Internet marketing; business growth consulting; business startup planning and execution; customer relations management; copywriting; and Affiliate program management.
Some of my articles have been published in well known magazines such as DEMC, Wireless Week, Computer User, Entrepreneur, and Palm Power Enterprise. You'll find links to these articles, and a variety of impressive copywriting samples, throughout this Website.
I'm a mother of four grown children, two of which are in the military. I currently live near Tucson Arizona with my dog and my "unofficial" husband of ten years.
These days I enjoy publishing useful non-fiction eBooks, guides and reports, and creating commercial stock photography. You'll find some of my older publishing credits here, and as of July 2007 much of my best stock photos are showcased this site.
About My Photography
I've been an avid photographer most of my life, and in early 2006 I decided it was time to start following that dream from a business perspective.
Though I love to shoot a wide variety of subjects, my current specialties are Food photos for magazines or stock, concept shots, and evergreen topics. You'll find hundreds of excellent examples of these specialties along with various other types of photos by browsing the stock photo area of this site.
This site is meant to showcase my photography, thus I do not provide full, high resolution photos here. Photos created before November 2006 are 6 Megapixels or smaller at original sizes.
All of the photos I've created since November 2006 have a resolution of 10.2 Megapixels. In other words: Uncropped High Resolution Photos have a Print Size of 8.640 inches x 12.907 inches at 300dpi, which is more than large enough for most full page advertisements and magazine covers.
Many of the stock photos featured on this website are available for licensing through several Royalty Free stock photo services online. You'll find links to each of those at the top of every page. I welcome licensing inquiries as well. If you're unable to find a specific photo available as Royalty Free Stock, it may well be available for specific licensed usage. Please feel free to contact me about specific photos.

Availability…
I am also available on a freelance basis for magazine photo assignments and requests, magazine writing, copy and sales writing, product photography assignments, and specific stock photo requests. If you have custom photography work you'd like done, please feel free to contact me (details below) at any time.
Editors & Publishers: Please feel free to send your photo needs list to me via email. If you'd like articles and photos combined, please send your editorial calendar or specific needs and story ideas as well.
Terms of Use/Copyrights
All photos and content on this website are copyright ©Kathy Burns-Millyard. All rights are reserved. You may not copy, republish, or otherwise reproduce any content here without express written permission.
You are welcome to link to any specific page of this site, but you may not link directly to any of the images unless expressly noted on the image page.
Contact Info
There are several ways to contact me. If you'd simply like to leave comments or opinions about one or more of my photos, you may do so using the commenting system provided on each gallery photo page, through Twitter, or via Facebook.
If you need to email me, you can do so by sending to contact at electronic perceptions dot com
If you need to send postal mail, here is the mailing address:
Electronic Perceptions
PO Box 11495
Tucson, AZ 85734
This page was last updated in April 2013.
trackback
or ping from your own site.